Step into the world of luxury and style with the top designer shoes of the season. From Prada to Christian Louboutin, this article showcases a collection of the most coveted footwear that will instantly elevate any outfit. Whether you're in search of elegant pumps, trendy sneakers, or statement sandals, these designer shoes are guaranteed to make a lasting impression. With brands like Chanel, Valentino, and Jimmy Choo, get ready to indulge in a little shoe therapy and discover the power of a fabulous pair of shoes.
Prada Brushed Leather Slingback Pumps
These Prada slingback pumps are made from lime green brushed leather with a lacquer finish.
They feature a screen-printed leather triangle logo.
The pumps have a leather sole and rubber heel cap.
With a 65 mm varnished heel adorned with the Prada logo, these shoes are both stylish and comfortable.
Raf Simmons, an esteemed menswear designer who has previously worked with Jil Sander, Christian Dior, and Calvin Klein, joined Prada as co-creative director in February 2020. Simmons collaborated with Miuccia Prada to envision the future of the brand. This fresh approach to the classic slingback design is feminine and minimal, and the use of brushed leather adds a unique touch. The pointed toe silhouette and modern demi-wedge pay homage to Prada's iconic triangle logo. The front of the shoe is slightly padded for added comfort and a distinctive aesthetic. These designer pumps have gained popularity among fashion influencers worldwide, including model Georgia Fowler.
Buy Now: Prada brushed leather slingback pumps - $1,250
Chloé Meril Woven Cotton Platform Sandals
These Chloé platform sandals are available in a neutral 'red sand' colorway.
The heel measures approximately 1.5 inches in height.
They are crafted from multi-colored cotton and feature a buckle-fastening ankle strap.
Made with sustainable elements, these sandals showcase the craftsmanship of independent artisans from around the world.
Chloé, a renowned French luxury fashion house founded over 70 years ago by Gaby Aghion, continues to make its mark in the industry. Since 2020, Gabriela Hearst, a New York-based designer originally from Uruguay, has been leading the brand as creative director. Hearst's commitment to sustainability and thoughtful designs has solidified her as a major influencer in the fashion world. In their Spring 2022 collection, Hearst and her team introduced the Chloe Craft symbol to highlight the craftsmanship of independent artisans. The Meril platform sandals, a testament to the brand's focus on sustainability, are crafted from woven cotton using traditional techniques. Perfect for a summer vacation, these sandals exude both style and comfort.
Buy Now: Chloé Meril Woven Cotton Platform Sandals - 5
Adidas x Gucci Women's Gazelle Sneaker
SPONSORED
The Adidas x Gucci Gazelle sneaker is available in two colorways: red velvet and pink velvet with suede trim.
These sneakers are crafted with animal-free raw materials primarily from sustainable, renewable, and bio-based sources.
They have a rubber sole and lace-up closure.
These sneakers are made in Italy and require special care: protect them from direct light, heat, and rain. If they get wet, dry them immediately with a soft cloth. To store, fill the shoes with tissue paper to maintain their shape and absorb humidity, then place them in the provided flannel bag and box. Clean with a soft, dry cloth or brush.
The Adidas x Gucci collaboration is a remarkable partnership between two iconic brands. Alessandro Michele, the creative director of Gucci since 2015, has expertly combined provocative, romantic, and eclectic elements with Italian craftsmanship. Taking inspiration from past decades, Michele has reinvented sportswear with a modern twist and nostalgic touch. The Adidas x Gucci Gazelle sneaker perfectly embodies the essence of Gucci, known for its rich textures, vibrant prints, bold silhouettes, and statement accessories since its establishment in 1921 by Guccio Gucci. These sneakers are a must-have for fashion-forward individuals who love to experiment with colors, textures, and patterns. They serve as a classic option for those looking to embrace the designer sneaker trend while maintaining a minimalistic style. Notably, these sneakers have already been sported by fashion influencers such as Alexa Chung, Caroline Daur, and Jodie Turner-Smith.
Buy Now: adidas x Gucci women's Gazelle sneaker - 0
Proenza Schouler Stretch Platform Sandals
These Proenza Schouler platform sandals are available in three shades: parchment, black, and caramel.
They feature a square toe design and slip-on style with an elasticated back strap.
The contrast logo-embossed footbed adds a stylish touch.
Made in Italy, these sandals have a calf leather footbed and a heel height of 0.7".
Proenza Schouler, a renowned New York-based brand established in 2002 by designers Jack McCollough and Lazaro Hernandez, has made significant contributions to womenswear and accessories. The duo first collaborated on their senior thesis at Parsons School of Design, which ultimately led to the launch of their first collection under the Proenza Schouler name. The brand prides itself on using luxury materials that exude effortless simplicity. In 2004, McCollough and Hernandez were honored with the inaugural CFDA Vogue Fashion Fund award, and since then, Proenza Schouler has received five more CFDA awards. In 2012, the brand expanded into footwear with their first collection. These designer sandals offer supreme comfort with their stretch platform, making them a must-have in any closet. Their updated neutral aesthetics make them versatile and perfect for various outfits, from white summer dresses to tailored linen dresses or separates.
Buy Now: Proenza Schouler Stretch Platform Sandals - 5
Amina Muaddi Robyn Floral Print Satin Sandals
These Amina Muaddi Robyn sandals are made with floral printed satin and acrylic, adorned with crystal embellishments.
Featuring a 3.8" pedestal stiletto heel, these sandals provide an elegant and elevated height.
The square-cut open toe design adds a modern touch to the overall look.
The sandals feature a three buckle strap vamp and a double ankle strap for a secure and stylish fit.
Made in Italy with leather lining, these sandals exude luxury and craftsmanship.
The namesake and award-winning shoe designer, Amina Muaddi, began her journey in shoe design at the age of 26. Her luxury shoes, designed in Paris and produced in Italy, often feature bold colors, statement-making textiles, and chunky pedestal heels. These Robyn sandals are perfect for pairing with clashing prints in similar colorways or for creating a sleek all-black look. Notably, Rihanna is a fan of Amina Muaddi's shoe brand, and in 2019, Muaddi was invited to design footwear for Fenty. Furthermore, in 2021, Muaddi was honored as the first recipient of the Fashion Trust Arabia's New Entrepreneur of the Year Award, recognizing her impact globally as a young Arab creative entrepreneur. You can spot her footwear on various influencers, including Camille Charriere and Beyoncé herself.
Shop Amina Muaddi Robyn Floral Print Satin Sandals for $1,190
Jacquemus Piscine Mules
Fits true to size.
Only available in full sizes; go up to the nearest whole size if you wear a half size.
The heel measures approximately 55mm/2 inches.
These mules are crafted from tonal-pink leather.
They are designed to slip on easily.
Made in Italy with meticulous attention to detail.
Simon Porte Jacquemus, a designer known for his enchanting creations, draws inspiration from his love for art and serene runway destinations. His animated color palette remains a signature feature of his designs. With a penchant for exaggerated silhouettes and shapes, Jacquemus never fails to spark joy. Bubble gum pink is often a go-to color for his ready-to-wear pieces and accessories. These designer shoes, made with exceptionally soft leather, offer supreme comfort thanks to the padded and cushioned footbed. The Piscine heel, although more subtle compared to other Jacquemus designs, showcases the fun and vibrant pink hue that balances the minimalist heel. Stand out by pairing these mules with a head-to-toe pink ensemble or experiment with pastel palettes by introducing yellow and green into your summer look.
Shop Jacquemus Piscine Mules for 5
Miu Miu Penny Loafer Slingbacks
These Miu Miu Penny Loafer Slingbacks feature a leather upper.
Designed with a pointed toe, they combine elegance and sophistication.
The slingback style adds a touch of femininity to the overall look.
Made in Italy with a leather sole for quality and durability.
Miu Miu, founded in 1993 by Miuccia Prada, focuses on creating sexy, rebellious, feminine, and playful ready-to-wear pieces and accessories that are entirely unique. The brand maintains sophistication while remaining unpretentious. This season, the collection explores the interplay between masculine and feminine stereotypes. These Penny Loafer Slingbacks are crafted from luxurious leather and designed with a slim silhouette. The addition of the slingback strap further enhances the femininity of the shoe. The versatile style can be paired with your favorite knit top, a leather jacket, and a mini skirt for a chic ensemble.
Shop Miu Miu Penny Loafer Slingbacks for $1,050
Loewe Tulip Heeled Sandals
The heel measures 4 1/2" in height.
These Loewe Tulip Heeled Sandals are made with a leather upper, lining, and sole.
Available in whole sizes only; for half sizes, it is recommended to order the next size up.
Made in Italy, these sandals showcase the brand's commitment to exquisite craftsmanship.
Jonathan Anderson, the London-based designer, took over the 19th-century Spanish luxury house Loewe in 2013. With his infusion of British wit and unconventional, eccentric glamour, Anderson has brought a fresh perspective to the label's long-standing tradition of exquisite leather craftsmanship. Under Anderson's creative direction, Loewe has created countless It bags and impeccably tailored ready-to-wear pieces that are adored by celebrities like Zendaya, Nicola Peltz-Beckham, Michelle Pfeiffer, and Nicole Kidman. While Loewe maintains its rich history, the brand also keeps a pulse on the current fashion landscape and future trends. The Tulip sandal from this season's collection is a masterpiece. It features a sleek and sophisticated front and a playful and vibrant back, making it suitable for both boardroom meetings and date nights. Notably, Jake Gyllenhaal's partner, model Jeanne Cadieau, wore these sandals adorned with candy wrapper silver bows to the Cannes Film Festival. Additionally, Gal Gadot frequently chooses Loewe designs for her red carpet premieres.
Shop Loewe Tulip Heeled Sandals for $1,600
Valentino Garavani Rockstud No Limit Leather Sandals
These tan leather sandals by Valentino are a timeless choice.
Fits true to size for a comfortable fit.
The ankle lace-up strap ensures a secure fit.
Featuring a slight heel, these sandals offer a touch of elevation without compromising comfort.
Made in Italy with high-quality tan leather for durability and sophistication.
Valentino, one of the world's most renowned fashion houses, has garnered a loyal fan base including celebrities like Zendaya, Nicola Peltz-Beckham, Michelle Pfeiffer, and Nicole Kidman. Since its establishment in 1960, Valentino has been committed to creating beautiful and well-crafted fashion and accessories that stand the test of time. Under the creative direction of Pierpaolo Piccioli, the brand collaborates closely with artisans to produce exceptional designs. Valentino Garavani's Rockstud No Limit leather sandals, designed with tan leather, are one of the most sought-after designer sandals of the season. Adorned with slim lace-up straps embellished with the brand's signature gold-tone pyramid studs, these sandals exude elegance and sophistication. Show off the intricate details and impeccable construction by pairing them with a short hemline.
Shop Valentino Garavani Rockstud No Limit Leather Sandals for 0
The Row Woven Fisherman Sandal
This sandal is designed to fit true to size.
The sole measures approximately 1 inch in height.
It is made of black textured-leather.
Features a buckle-fastening strap for easy wear.
Made in Italy.
The Row Woven Fisherman Sandal is named after London's famous Savile Row, known for its exceptional fabrications, attention to detail, and expert tailoring. Founders Mary-Kate and Ashley Olsen envisioned a brand that embodies timeless elegance with an effortless vibe. Renowned celebrities like Kendall Jenner, Gigi Hadid, Jennifer Lawrence, and Zoe Kravitz have been loyal fans of The Row for a long time. Each season, the brand's ready-to-wear and accessories line explores the concept of chic tailoring, clean lines, and simple shapes. Every piece created by The Row is a classic, making it a must-have staple in your wardrobe. The Row's Fisherman sandals are the ideal designer shoes to wear throughout the summer and even as you transition into fall. Inspired by art, sculpture, and interiors, these sandals are expertly woven in Italy from panels of black textured-leather, paying homage to traditional fisherman sandals. What sets them apart is the chunky rubber sole, providing a unique touch compared to other variations available in the market. These sandals are perfect for running errands all day, from meetings to museums to appointments.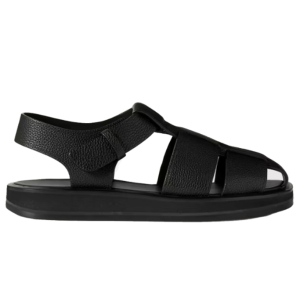 Shop The Row Woven Fisherman Sandal - 0
Saint Laurent Tina Metallic Heels
Available in green metallic, lilac metallic, and silver leather.
Strappy detailing ensures a secure fit.
Equipped with a buckle-fastening ankle strap.
Open toe design.
Features a branded insole.
High stiletto heel measuring 3.9 inches in height.
Designed with an almond toe.
Made in Italy.
Saint Laurent, founded by Yves Saint Laurent in 1961, revolutionized the fusion of celebrity, fashion, and society. Five years after the establishment of the eponymous brand, the French maison introduced "Rive Gauche," becoming the first couture house to launch ready-to-wear collections. Today, the artistic, creative, and image director of the house, Anthony Vaccarello, continues to push boundaries with his designs. This season, their sexy Tina sandal is a fabulous choice for weddings, formal events, and nights out on the dance floor.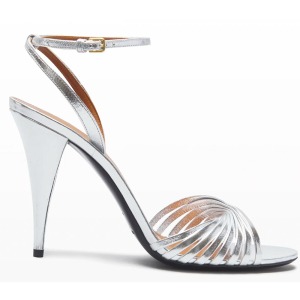 Shop Saint Laurent Tina Metallic Heels - 5
Alaïa Studded Mary Jane Flats
Made from leather, zamak, and brass materials.
Designed with a flat heel measuring 0.17 inches in height.
Features a convenient snap closure.
Round toe for added comfort.
Equipped with a rubber outsole for sturdy traction.
Made in Italy.
Azzedine Alaïa launched his eponymous brand in 1964. Originating from Tunisia, he settled in Paris, celebrating the power of femininity and the female body from the very beginning. Alaïa emphasized the female form through sculptural silhouettes and innovative materials, including the brand's legendary knits and embellished fabrics, resulting in timeless elegance. One of this season's most popular trends is the Mary Jane style. This flat and embellished version is perfect for pairing with your favorite cargo chinos and a classic white tank during your next trip to the farmers market. These flats feature a sturdy snap-strap closure for secure and comfortable wear. The round toe and rubber outsole ensure a stable and slip-resistant experience, allowing you to confidently stride on any surface.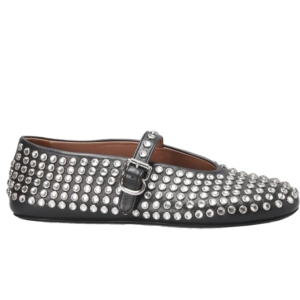 Shop Alaïa Studded Mary Jane Flats - $1,120
Versace Medusa Aevitas Platforms
The heel measures 6 inches with a 3 inch platform.
Available in red satin.
Equipped with a buckle-fastening ankle strap.
Made in Italy.
Designed to fit true to size.
Versace has always been the epitome of the "more is more" aesthetic. After the tragic death of Gianni Versace in 1997, his sister Donatella took over the helm of the fashion house, carefully shaping and solidifying its sexy, provocative, and feminine approach. This season, we are captivated by their fire engine red sky-high heels. Versace's Medusa Aevitas platforms are aptly named, symbolizing power, liberation, and strength. These statement pumps have already been spotted on stars like Beyoncé, Dua Lipa, and Ariana Grande. They are a breath of fresh air as the party scene reignites, providing you with a significant boost in height. These designer shoes are meticulously crafted by Italian artisans, featuring a stacked platform to balance the 6-inch heel. The final touch is an adjustable ankle strap adorned with crystals and the iconic 'Medusa' charm.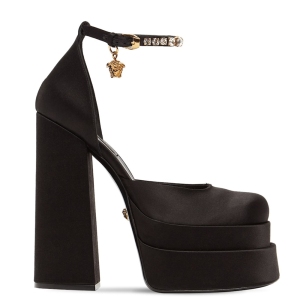 Shop Versace Medusa Aevitas Platforms - $1,120
Chanel Mesh Patent Velcro Dad Sandals
Equipped with a velcro strap closure for easy wear.
Combines black leather, patent, and mesh materials.
Adorned with CC monogram Chanel logos on the uppers.
The world-renowned house of Chanel was established in 1910 by Gabrielle "Coco" Chanel. It all began with the opening of a hat boutique at 21 rue Cambon in Paris under the name Chanel Modes. Coco Chanel's hats quickly gained popularity among well-known French actresses of the time, establishing her reputation in the fashion world. In 1983, Karl Lagerfeld took on the role of artistic director and introduced pre-collections, established Métier d'art, and shaped Haute Couture to what it is today. Alongside their beloved tweeds and quilted bags, Chanel's footwear is also meant to be cherished. Chanel's velcro dad sandals first graced the runways in the summer of 2019 and swiftly became a must-have shoe for summer. This pair, featuring mesh, patent detailing, and a woven sole, is the perfect sandal for the effortlessly cool and busy woman who desires a luxurious alternative to classic Birkenstocks.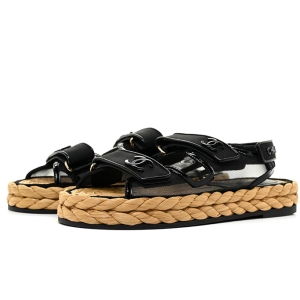 Shop Chanel Mesh Patent Velcro Dad Sandals - $2,195
Gianvito Rossi PVC Mules
The heel of these PVC mules measures 2 inches, providing a comfortable height.
Made from sand-colored PVC, these mules have a sleek and modern look.
They are designed to easily slip on, making them convenient for everyday wear.
Handcrafted in Italy, these mules showcase the expert craftsmanship that Gianvito Rossi is known for.
They are true to size, so you can confidently order your regular size.
Gianvito Rossi is a master in the art of shoe making, and his PVC mules are a testament to his skill. Using the finest Italian leather and suede, each pair is meticulously crafted to combine beauty with comfort. These mules have gained a devoted following, with prominent figures like Carine Roitfeld, the former editor of French Vogue, and Duchess Kate Middleton being fans. If you're looking to elevate your office look or make a statement at a cocktail party, these stunning Gianvito Rossi mules are the perfect choice. They feature a geometric, transparent plexiglass heel that adds a touch of modernity to the classic design. Fully lined in supple leather, these mules offer a plush and luxurious feel. Experience the elegance and quality of Italian craftsmanship with these designer shoes.​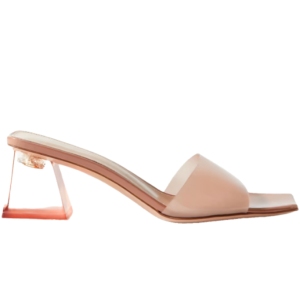 Click here to purchase the Gianvito Rossi PVC Mules for 5
Jimmy Choo Antia 85 Leather Sandals
The heel height of these leather sandals is 3.5 inches, providing a stylish lift.
Made from black leather, these sandals exude sophistication and elegance.
They feature ankle wrap ties that add a feminine and playful touch.
Designed to fit true to size, these sandals ensure a comfortable and secure fit.
Jimmy Choo, a renowned bespoke shoemaker, established his brand in London's East End in the early 90s. He quickly gained a following among jet-setters, including Princess Diana. Today, Jimmy Choo is a global luxury brand favored by celebrities like Rihanna, Kate Middleton, and Ariana Grande. Each design combines sophistication, comfort, and timeless elegance. The Antia 85 leather sandals exemplify this aesthetic, making them a wardrobe staple for various occasions. These minimalist sandals are free of any hardware, ensuring their versatility and longevity. Crafted with meticulous attention to detail, these designer shoes provide both style and comfort. If you're looking for a pair of sandals that can effortlessly transition from a cocktail bar opening to a rehearsal dinner or wedding reception, the Jimmy Choo Antia 85 Leather Sandals are the perfect choice.​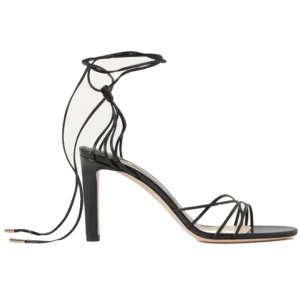 Click here to purchase the Jimmy Choo Antia 85 Leather Sandals for 5
Celine Luco Triomphe Stamped Loafers
These loafers are made from stamped buttery yellow leather, adding a touch of luxury.
Featuring a straight stacked leather heel measuring 0.6 inches, these loafers offer a subtle lift.
Designed with a rounded toe and a hand-stitched apron, these loafers showcase exceptional craftsmanship.
They have a leather outsole that ensures durability and long-lasting wear.
The narrow upper suggests sizing up by half a size for a better fit.
Founded in 1945 by Celine Vipiana, the French luxury house has been synonymous with impeccably crafted ready-to-wear fashion and beautifully designed leather goods. From 2008 to 2018, Phoebe Philo served as the brand's creative director, revolutionizing its traditional aesthetic with bold graphics, architectural silhouettes, and modern accessories. The appointment of Hedi Slimane as artistic, creative, and image director in 2018 further solidified Celine's cult-following. The brand epitomizes classic-cool and has enlisted Kaia Gerber for their ad campaign. Loafers are currently enjoying a moment of popularity, with almost every luxury brand offering their own version. However, Celine has mastered the style with their Luco Triomphe loafers. We adore the stamped buttery leather, and we can confirm that these loafers are incredibly comfortable for day-to-night wear.​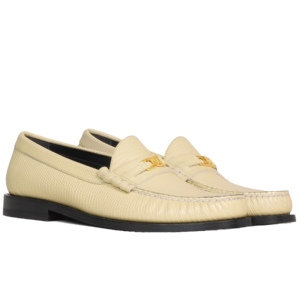 Click here to purchase the Celine Luco Triomphe Stamped Loafers for 0
Hermes Calya Clogs
These luxurious clogs are available in black, brown, and beige leather, featuring tone-on-tone "H" cut-out detailing.
They have a beechwood and black leather sole with a black rubber insert for added traction.
Silver palladium-plated studs embellish these clogs, adding a touch of sophistication.
With a black goatskin insole and lining, these clogs provide a comfortable and cozy experience.
Hermes offers a guarantee that their craftspeople are available to maintain or repair these leather goods, ensuring their long-term durability.
The Hermes Calya clogs are perfect for those who love a boho-chic look. As a family-owned and independent artisanal house since 1837, Hermes began as a harness atelier in Paris. It wasn't until 1922 that they revealed their first handbag. With a focus on creating heirloom-worthy pieces, Hermes leather goods are meant to be cherished and passed down through generations. Their status handbags, the Birken and the Kelly, have garnered waitlists and are considered iconic. However, the Calya clogs offer a more accessible option, priced under $1,000. These clogs are a smart investment that won't break the bank. Pair them with your favorite denim, linen, or knitwear for a fashionable and comfortable look. Whether it's summer or winter, these clogs can be worn barefoot or with socks for year-round style.​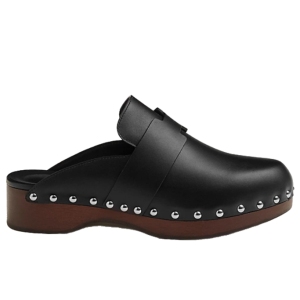 Click here to purchase the Hermes Calya Clogs for 0
XL Mary Janes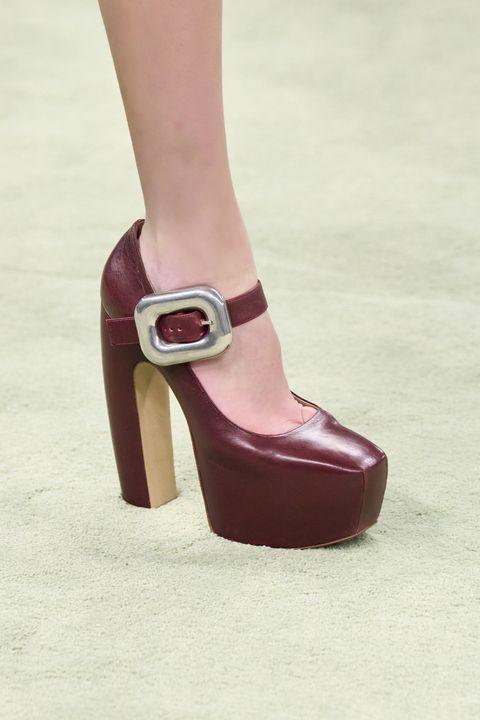 Imaxtree
"A huge trend we have seen for SS23 are the comeback of Mary Janes with immersive platforms," Hsu tells ELLE UK. "My favourites are Bottega Veneta's 'Mostra' Platforms as they are stylish yet timeless."
How to style them? When wanting to create a subversive and feminine ensemble, stomping Mary Janes are a great choice. We'd pair them with midi skirts and oversized suiting, just like we saw in Bottega Veneta's AW22 show.
Ballet Flats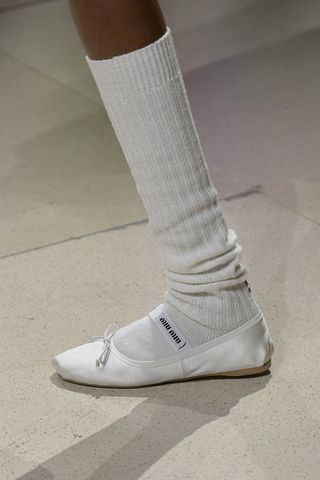 Imaxtree
"Ballerinas come in all forms and colours for upcoming summer," Hsu explains. "To add a little extra sparkle choose the embellished ballet flats from Miu Miu and upgrade your wardrobe. A simple black pair of jeans mixed with those flats will do the job."
How to style them? Hsu is right - Miu Miu's super-sparkly offerings are probably best dressed down. But if you're investing in any more pared-back colours, we say double-down with ultra-feminine shapes.
Neo-Classic Pumps, Ballet Flats, Sky-High Heels, Knee-High Stompers, XL Mary Janes - While keeping an eye out for the next "it" shoe is worthwhile, vintage, archive, and secondhand shoes can take your wardrobe from follower to trendsetter while also earning sustainability points. They are often a cost-effective choice, as pre-worn pieces tend to be more affordable and can retain or even increase in value with the right selection. "Evergreen" items and accessories are always a safe investment and tend to appreciate over time. Vestiaire Collective, a leading luxury resale platform, notes that luxury accessories, particularly bags and shoes, are their best-performing categories. In terms of shoes, their top-selling brands for 2023 include Christian Louboutin, Gucci, Prada, Hermes, and Jimmy Choo.
Christian Louboutin's Pigalle Pumps
Getty Images
Named after Quartier Pigalle, a historically infamous district in Paris known for the Moulin Rouge and other similar establishments, the Pigalle pumps have become synonymous with Christian Louboutin's brand.
Featuring a pointed toe and a sleek 120mm heel, these pumps are adored for their ability to correct posture and create the illusion of longer legs. It comes as no surprise that fashion icon Kate Moss owns numerous pairs and rarely steps onto the red carpet without them.
While black patent leather remains the signature choice for these pumps, their immense popularity has led to the availability of a wide range of fabrics and treatments.
In the world of high-end fashion, the top designer shoes are more than just footwear - they are works of art that command attention and admiration. From the sleek Prada Brushed Leather Slingback Pumps to the bold Adidas x Gucci Women's Gazelle Sneaker, these shoes effortlessly blend style and craftsmanship. Each pair tells a unique story, showcasing the creativity and vision of the designers behind them. Whether you prefer the chic simplicity of the Chanel Mesh Patent Velcro Dad Sandals or the intricate details of the Valentino Garavani Rockstud No Limit Leather Sandals, these shoes are a true reflection of luxury and elegance. So step into a world of fashion-forward glamour with the top designer shoes that are destined to turn heads and make a bold statement with every step.